My favorite nonfiction books are the ones that examine oft-mined subjects from a new point of view, whether that means Malcolm Gladwell's
The Tipping Point
or Jim Bouton's
Ball Four
. So early in my career, I wrote one of my own. Twenty years ago, in 1995, I produced a book called
THE SPORTS 100,
published by Macmillan. It was a ranking and profile of the one hundred most important people in American sports history.
The book judges influence, not
athletic prowess. If all you can say about someone was that he was the best quarterback or hit this many home runs or won that many U.S. Open titles, that isn't enough. There are too many stars in the world of sports to have included people for star power alone. You won't find Ted Williams or Joe Montana or Steffi Graf. But you will find jump shot pioneer Hank Luisetti and vilified baseball owner Walter O'Malley and influential bookmaker Charles McNeil. It is an attempt to show that there are relative unknowns who left more of an imprint than a great many legends.
Another aim of The Sports 100 is to put the games into historical perspective, to show how its cultural influence often manifests itself in a handful of significant individuals—from Joe Louis and Jackie Robinson to Billie Jean King and Arthur Ashe. The book also highlights the many cases in which one person was largely responsible for introducing an eventually monumental element of sports—be it free agency, the point spread, the minor league farm system, or the forward pass. In fact, it is not only a study of 100 remarkable people, but also of 100 components of sport's evolution. It is as much a history of the games as a profile of the participants.
In the end, the list is as diverse as sport itself. There are athletes and innovators, activists and academics, executives and inventors, journalists and judges, agents and outcasts, pioneers, producers, promoters and presidents—all of whom made a lasting impact, in one way or another, on American athletics. Of course, readers were bound to disagree with many of the selections and omissions. But like the old argument about New York's greatest centerfielder, it's all a matter of perspective.
Unfortunately, the book is long out of print. If you want a copy, you'll just have to contact me personally. And if you want some interesting bits of trivia that I discovered along the way, well, there's plenty of that.
After all, my hope was to provide new information to even the already knowledgeable sports fan. And that included me. So here follows a list—not a list of the 100 figures ranked in the book; for that you can go here. This is a list of 55 fascinating facts (about 55 figures profiled) that I encountered along the way:
1. In his first major league appearance in 1947,
Jackie Robinson
went 0-for-3. But in his first
minor
league appearance a year earlier with the Montreal Royals, he collected four hits (including a home run), four runs, three RBI and two stolen bases.
2. The original Cassius Marcellus Clay was a southern abolitionist during the 1800s, loud and fearless. Ironically, many decades later, a brash boxer named Cassius Marcellus Clay discarded what he felt was his slave name and called himself
Muhammad Ali
.
3.
Babe Ruth's
record of 29 consecutive shutout innings as a
pitcher
in the World Series lasted longer than his mark of 60 home runs hit in a single season.
4. When James Naismith invented basketball as a 30-year-old P.E. instructor at the School for Christian Workers in Springfield, MA, the 18 men who played the first game were studying to be YMCA general secretaries. Final score of the first game: 1-0.
5. Albert Spalding, the late 19th century athlete-owner-businessman perhaps most responsible for spreading sports in America, once organized a world baseball tour that included games played at the Pyramids in Egypt.
6. Walter Camp, the Yale coach most responsible for developing modern football rules, came up with such basic innovations as 11 players to a side, the line of scrimmage, and the set of downs. He also coined the term "All-America."
7. The iconic 1938 boxing rematch between African-American hero Joe Louis and Nazi Germany hero Max Schmeling lasted all of 124 seconds. Louis knocked him out.
8. The famous 1973 "Battle of the Sexes" in which tennis star
Billie Jean King
outplayed outspoken chauvinist Bobby Riggs was watched by a television audience of more than 50 million people.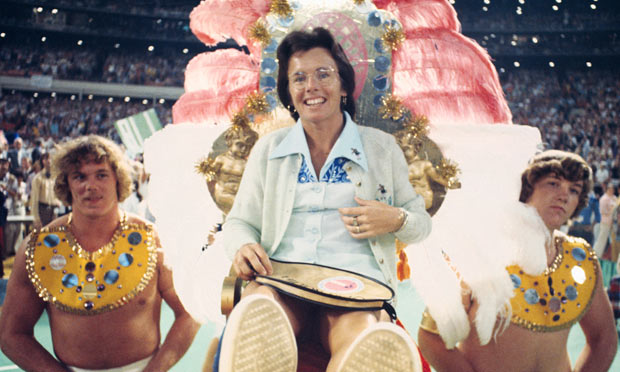 9. Roone Arledge of ABC sports, the man most responsible for modern sports television's impact, once won an Emmy award for producing a puppet show.
10. Branch Rickey, the Brooklyn Dodgers president who signed Jackie Robinson, was also almost single-handedly responsible for designing the minor league farm system.
11. When Marvin Miller took over as executive director of the Major League Baseball Players' Association in 1966, the combined payroll of all major league clubs that year was less than the combined salary of Roger Clemens and Dwight Gooden a generation later.
12. Early 20th century heavyweight boxing champion Jack Johnson, an outspoken African-American in an era of widespread lynchings, was once arrested on a trumped-up charge of violating the Mann Act, a law passed in 1910 making the interstate transportation of women for "immoral purposes" illegal. It was meant to stop organized crime.
13. In 1915, just a few years before George Halas was one of the key figures in founding what became the National Football League, he was scheduled to depart on a ship, the Eastland, which capsized while docked in Chicago. Nearly 1,000 people died, but Halas missed the boat.
14. As a 5-foot-9 sophomore in high school, Michael Jordan was cut from his varsity team.
15. Harry Wright was the manager of the Cincinnati Red Stockings, the first traveling all-professional baseball club in 1869. His team averaged 42 runs per game that season and finished 57-0 against its amateur competition.
16. Nineteenth century bareknuckle brawler John L. Sullivan, the first significant mass cultural hero in American life, once earned 16 times more than the next most highly-paid athlete in the country.
17. Amos Alonzo Stagg, credited with inventing everything from the huddle to the lateral pass in football, scored his team's only points in the first-ever public basketball game in 1892. He lived to be 102, dying in 1965 when Michael Jordan was a toddler.
18, When Red Grange was hired to play a series of exhibition football games with the Chicago Bears in 1925, he was paid $100,000, nearly twice what Babe Ruth was earning at the time.
19. The Duke of Windsor was once asked if he could be any man in the world other than himself. He replied that he would like to be Arnold Palmer.
20. When Jim Thorpe died in 1953, he was buried in Mauch Chunk, Pennsylvania, which agreed to change its name to Jim Thorpe in return for the honor.
21. In 1960, in international voting to determine history's greatest athlete, Babe Didrikson Zaharias finished 17th, ahead of men like Joe DiMaggio, Bill Russell, and Ben Hogan.
22. When Pete Rozelle was named commissioner of the National Football League in 1960, the Los Angeles Herald Examiner called it "the zaniest act of the century."
23. In 1929, golfer Bobby Jones tied for the lead in the U.S. Open and competed in a 36-hole playoff. He won by 23 strokes.
24. After Notre Dame football coach Knute Rockne died in a plane crash in 1931, more than 100,000 people lined his funeral route through Chicago.
25. Jesse Owens became an American hero by winning four gold medals in front of Adolph Hitler at the 1936 Summer Olympics in Berlin, but he was unable to capitalize on it financially. Just three years later, he filed for bankruptcy.
26. Over just four seasons from 1977-1980, Earvin "Magic" Johnson won three national titles at three levels—a high school state basketball championship, the NCAA Tournament with Michigan State, and the NBA title with the Los Angeles Lakers.
27. Larry Bird's father was an alcoholic laborer who killed himself soon after Bird enrolled at Indiana University in 1974. Bird lasted just a few weeks with Indiana coach Bobby Knight before transferring to Indiana State.
28. Upon his death in 1993, transcendent tennis star Arthur Ashe was the first person to lie in state in the Virginia Governor's Mansion since Civil War General Stonewall Jackson.
29. Playing against his peers in a hockey league as a 10-year-old, Wayne Gretzky scored 378 goals in 69 games—238 more goals than anyone else
30. The title of Joe Namath's autobiography, written with Dick Schaap: I Can't Wait Until Tomorrow… 'Cause I Get Better-looking Every Day.
31. Bill Russell, considered by some to be the greatest basketball player—and certainly the greatest defensive basketball player—in history, refused to show up for his induction into the Basketball Hall of Fame.
32. Jim Creighton, the first paid baseball player (in 1860) and a pitcher who transformed the game by making the position adversarial to the batter, died hitting a home run. He swung, ruptured his spleen, and died four days later at the age of 21.
33. Seven-time national tennis champion Bill Tilden was a pedophile. He traveled with hand-picked ball boys and was twice sentenced to prison for making advances on teenagers.
34. After baseball owner Roy Hofheinz constructed the game-changing Houston Astrodome in 1966, the New York Yankees appeared in the first exhibition game. Mickey Mantle hit the first home run.
35. Hall of Famer Satchel Paige pitched three shutout innings in the major leagues at the age of 59.
36. Wilma Rudolph was the 20th of 22 children produced by her railroad porter father in two marriages. As a child, she survived scarlet fever, double pneumonia and polio.
37. Jack Nicklaus won a record 18 major professional championships in his illustrious golf career. He finished second 19 times.
38. Bill Rasmussen's creation, a Connecticut cable network originally known as the E.S.P. Network (now globally known as ESPN), launched on September 7, 1979. The first live event was the Professional Softball World Series.
39. Howie Morenz, the "Babe Ruth of hockey," broke his leg during an NHL game in 1937, soon grew despondent, suffered a nervous breakdown, then died of a heart attack at the age of 35.
40. Nike CEO Phil Knight asked an art student named Carolyn Davidson to design a logo for his fledgling sneaker brand. She designed the Nike "swoosh." She was paid $35 (although Knight later graciously gave her significant stock options).
41. African-American tennis pioneer Althea Gibson once recorded an album and sang on "The Ed Sullivan Show." She later turned to golf, becoming the first black woman to earn her LPGA player's card.
42. Harlem Globetrotters founder Abe Saperstein stood 5-foot-3.
43. Vince Lombardi DID NOT coin the phrase "winning isn't everything, it's the only thing."
44. Bill Veeck, iconic owner of the Cleveland Indians and Chicago White Sox, began his career working as an assistant for his father, who was president of the Chicago Cubs. It was the younger Veeck who planted the ivy on Wrigley's outfield walls.
45. Howard Cosell graduated from NYU law school and began his career by opening a labor law practice in New York City.
46. After Francis Ouimet and his 10-year-old caddie Eddie Lowery shocked the world and transformed American golf by winning the 1913 U.S. Open (as told in my 2013 picture book Francis and Eddie), Ouimet won the U.S. Amateur championship the very next year.
47. As a child, Martina Navrtilova wasn't told that her estranged father had committed suicide. She didn't find out until she was 24 years old.
48. Alexander Cartwright, not Abner Doubleday, deserves most of the credit for inventing baseball as we know it—as the leader of the New York Knickerbockers club in 1845. As for Doubleday, he never even witnessed a baseball game.
49. After Roberto Clemente perished in a plane crash while bringing supplies to earthquake-ravaged Nicaragua on New Year's Eve 1972, the Coast guard found the pilot's remains, but never Clemente's.
50. Oakland A's owner
Charlie Finley
(who once hung up on me when I tried to interview him) introduced color uniforms, pushed through acceptance of the designated hitter, and tried to have sheep graze beyond the outfield fence.
51. Danny Biasone, inventor of basketball's 24-second shot clock, purchased his first professional basketball team for $1,000 in 1946.
52. Figure skating icon Sonja Henie reportedly swore like a truck driver.
53. Richard Petty won 200 races as the King of NASCAR, nearly twice as many as anyone else. Along the way, he broke the record held by his father, Lee Petty (54).
54. Former Purdue basketball star and longtime UCLA coach John Wooden is the only man to be enshrined in the Basketball Hall of Fame as a player and a coach.


55. Charles McNeil, a bookie in Chicago in the mid-20th century who has been credited with inventing the point spread as a sports gambling tool, was said to be a brilliant mathematician who graduated from the University of Chicago.